OmniChannel – The Intelligent Contact Centre.
The OmniChannel communications platform optimises customer facing engagement; promotes efficient business practices; and drives call centre performance. In other words, map your business processes with PCXCom call centre technology, and indeed communicate with customers in an integrated manner across multiple communication channels.
OmniChannel Communications – Advanced multi-channel & integrated Unified Communications
Engage with your customers in the most relevant, timely and efficient means with PCXCom call centre technology. Moreover, develop sustained competitive advantage via the PCXCom OmniChannel platform, that not only facilitates dynamic customer engagement across multiple channels, it does so in an intuitive and integrated manner.
Organisations gain end-to-end transparency of the 'customer journey' via the OmniChannel platform. Likewise, the enhanced functionality provides a more personalised approach across the different touchpoints of a 'customer's journey'; as well as provide increased capacity to respond with immediacy across multiple channels ie; Voice, SMS, Email, Voice Broadcasting, Web-Chat, Click to Call, IVR, Social Media Instant Messaging and Websites.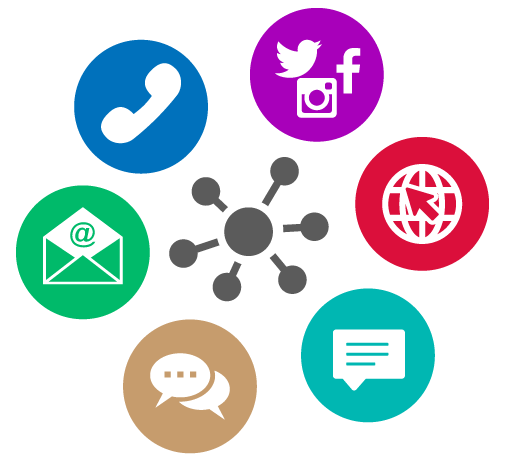 A Paradigm Shift in Business Communications
Effective communication across multiple channels is paramount in an increasingly changing environment. Moreover, the paradigm shift from traditionally serving customers at the shopfront, call centre and the internet is rapidly changing to a more complex communication model that includes a plethora of communication channels, such as; Voice, SMS, Email, Voice Broadcasting, Web-Chat, Click to Call, IVR, Social Media Instant Messaging, Websites; and of course the Shopfront.

OmniChannel Strategy – adapt to a changing business environment
In an increasingly competitive environment, adopting highly flexible and scalable technology is now a business critical imperative. The PCXCom OmniChannel not only has the capacity to meet the demands of a changing marketplace, it enables organisations to develop business strategies that are in sync with the dynamics of the marketplace, and indeed can evolve over time.
The OmniChannel platform enables organisations and customers alike to communicate across different channels; facilitating seamless, cross-usage and interaction of channels.  This is a significant shift from the one-dimension multi-channel or unified communications of the past.
Furthermore, OmniChannel enables organisations to adopt a holistic approach to customer engagement, taking into consideration the various touchpoints throughout an organisation ie; Sales, Marketing, Finance, Customer Service etc.
Illustrated below, the OmniChannel platform facilitates a rich dialog between the Customer and Agent via the OmniChannel Loop, whereby Customer Experience (CX) is one of relevance that meets exceptions in a timely manner. Likewise, Agents in your call centre have greater protencity to deliver quality outcomes as a result of relevance, consistency timeliness; the User Experience (UX). Furthermore, Management (MX) have control of operations via the agility, flexibility and scalability of the OmniChannel platform; in addition to gaining operational transparency through quality reporting, call recording and live call monitoring. Ultimately, the Business Experience (BX) is one of; revenue gains, cost reduction, improve profitability and competitive advantage.

Multi-Channel Communications
Regardless of the communication method, a complete audit trail of customer interaction is recorded by the PCXCom system. Furthermore, multiple channels can be used at any given time to further enhance the OmniChannel Loop, and indeed the CX and UX.
Voice
Phoning customers remains an efficient and effective means of communication. Nonetheless, the increasing sophistication, and inherent mobility of smart devices poses considerable challenges for businesses that continue to operate on ageing Call Centre systems.
On the other hand, the fully blended, IP based, PCXCom OmniChannel platform is fully equipped to meet the challenges of a changing environment, with sophisticated functions such as; Automated Call Distribution (ACD), Interactive Voice Response (IVR) and Automated Speech Recognition (ASR); and the award winning Predictive Dialler.
Importantly, Voice over Internet Protocol (VoIP) capability of the PCXCom OmniChannel platform delivers significant flexibility; and can be easily scaled to meet the ebbs and flows of operational requirements.
SMS
Whether SMS is sent as a 'batch', or as an 'individual' send, SMS can be fully integrated with the PCXCom OmniChannel platform, and hence presents capabilities beyond traditional SMS delivery. Likewise, an SMS can be sent as either a generic or customised mail-merge message with reply path capability. An SMS received from recipients can also be converted to email and received in a dedicated email inbox.
Voice Broadcast
Voice Broadcast, (sometime referred to as robo calling)  is an efficient means of optimising customer contact without need for human intervention. A single voice message can also be sent to multiple recipients to landline and/or mobile phones. The hot-key transfer function enables call recipients to gain immediate access to your call centre by simply pressing '1'.
Web Enquiries
Its critical to respond to enquiries from your website with immediacy, in order to beat your rivals to the opportunity. The OmniChannel platform provides organisation with the capability to respond immediately, automating a phone call to the next available, or skills based agent at your call centre.
Website 'Click to Call'
Calls can be initiated from your website by simply clicking the icon whereby a data field pop-up will enable the recipient to enter their phone number to automate a phone call from your call centre by the next available agent.
Web Chat
Web Chat can further enhance the web experience and engagement of customers, with a web-chat request forwarded to the next available, skills based agent to respond.
Email 'Click to Call'
Customers can initiate a phone call from emails sent to them by simply clicking an HTML link. By clicking-on an embedded icon in an email (i.e.; logo) a call to your call centre is activated. Alternatively, by clicking on the icon, a data field pop-up will enable the recipient to enter their phone number.
Social Media
Social media is increasingly having a greater presence in the day-to-day activities of consumers. The PCXCom OmniChannel provides companies with the capacity to implement strategies that incorporate social media, such as Facebook, LinkedIn and twitter, and importantly have the flexibility to quickly respond or change tactics in an ever-changing environment.
For instance, communication through social media can be attended to by the next available agent or alternatively specific skills-based agents in your call centre that are dedicated to responding social media. Likewise, agents can be proactive in responding to social media feeds, with a complete audit trail of interactions.
Fax
Fax is still used extensively by some industries for various applications; and hence a function of the OmniChannel platform.
CRM Integration
PCXCom systems and cloud services are compatible and can be integrated with any modern CRM software; including; Salesforce, Netsuite, Microsoft Dynamics, ZOHO and others; via either an API or alternatively by 'single click' access.
Operational Transparency – Quality Reporting
Across the spectrum, your organisation will have absolute operational transparency via;
Real-Time & Historical Performance Management reports
Real-Time & Historical Contact Centre Performance reports
Call Recording & Live Call Monitoring
Data Analytics
Remote VPN & Smart Device access to Management Reports, Contact Centre Reports and Call Recording & Live Call Monitoring
PCXCom systems have four access levels of reporting;
Senior Management | KPI Performance Screen & Cost Centre  Reports
Contact Centre | Performance Management WallBoard Display
Supervisor & Team Leader | Supervisor Screen – Performance Management, KPI & System Performance plus the PCXCom Smart Device APP
Agent | Self Performance