Intelligent Inbound Contact Management.
Customer Service Excellence
The sophisticated PCXCom Inbound Contact Management function effectively manages communication across multiple channels in Fully-Blended environments, incorporating skills-based routing that efficiently directs customers to the most appropriate agent resource based on product skill-level, and/or ability of individuals to respond via different channels ie; Voice, SMS, Web, Email etc. The core components include Automatic Call Distribution (ACD); Interactive Voice Response (IVR) and Automated Speech Recognition (ASR). Download: Effective Inbound Call Management
Automatic Call Distribution (ACD)
The ACD is a highly sophisticated queuing function with unlimited Queues and number of lines. Features also include;  Music on Hold, Estimated Answering Time; Automated Call-Back to hang-ups; Automated Call-Back requests; Skills-Based Routing; Call Priority Options, Agents Queue prompts and more.
Interactive Voice Response (IVR)
IVR's can be configured as simple DTMF set-ups such as push '1' for Sales, '2' for Accounts etc; or alternatively sophisticated configurations that incorporate Text to Speech (TTS) for personal verification applications or the likes. Any number of prompts can be set-up and changed at a Supervisor level as required.
Queue & Script Change Management
Supervisors can easily change queue routing across multiple channels; and indeed change IVR messages via the functions on the Supervisor screen.
Automated Speech Recognition (ASR)
Speech Recognition technology is often used for rapid response applications and/or those applications that facilitate the mobility of customers ie; applications that require call recipients to verify their identity is often far more effective using ASR, as against a standard IVR.
Moreover, Speech Recognition technology enhances the customer experience by removing layers in the traditional IVR. Referred to as Intelligent Call Steering (ICS), the technology quickly guides customers to agents that are best equipped to assist them with enquiries.
Fully Blended Environment
Inbound Contact Management & Outbound predictive dialler campaigns can operate either independently or alternatively in a fully blended environment to further optimise performance. Importantly, inbound contacts are automatically prioritised over outbound contacts as a means of attending to these  customers with immediacy.
Skills Based Routing
Customers are automatically routed to the next available agent with the most appropriate skill and/or skill level. Notably, agents can have multiple skills and skill levels, as can campaigns/queues can have multiple skills. Agents with appropriate skill-sets can facilitate communication across multiple channels ie; Voice, Email, SMS, Web and Social Media.
Immediate Response to Web Enquiries
In order to optimise your online marketing spend, and indeed respond to web enquiries before competitors, the PCXCom call centre system can prioritise web esquires to the next available agent.
Change Management
The operational flexibility of PCXCom call centre technology facilitates supervisor level, dynamic change management ie; queue routing, predictive dialler settings,  IVR's, campaign scripts, wrap-ups and FAQ's.
Data Management
Data can be easily exported from the PCXCom call centre system at any point of time. Likewise, produce outcome reports based on relevant wrap-ups such as 'completed surveys' for your QA team to then confirm the accuracy of outcomes upon review of call recordings.
Operational Transparency – Quality Reporting
In both graphical and statistical displays, Supervisors and Management alike will have absolute transparency of Contact Centre operations via the Supervisor screen, Contact Centre APP, and Wallboards;
Real-Time & Historical Performance Management reports
Real-Time & Historical Contact Centre Performance reports
Call Recording & Live Call Monitoring
Data Analytics
Remote VPN & Smart Device access to Management Reports, Contact Centre Reports and Call Recording & Live Call Monitoring
PCXCom systems have four access levels of reporting;
Senior Management | KPI Performance Screen &
Contact Centre | Performance Management WallBoard Display
Supervisor & Team Leader | Supervisor Screen – Performance Management, KPI & System Performance plus the PCXCom Smart Device APP
Agent | Self Performance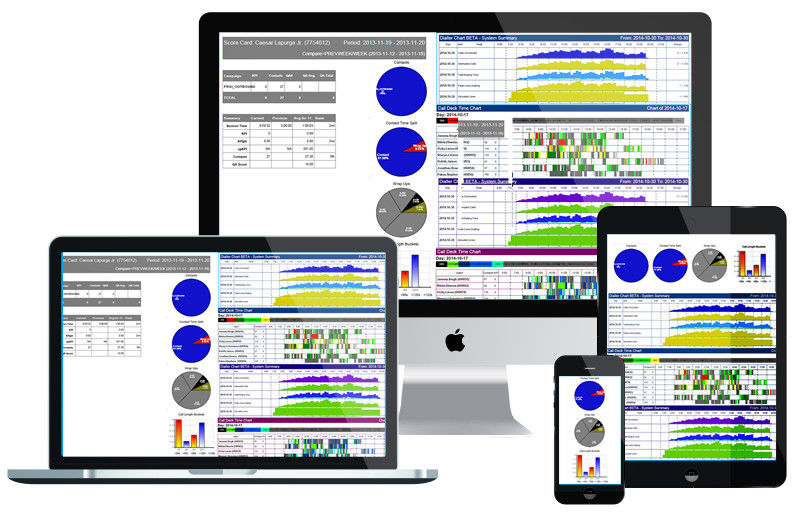 Queue Management Summary & Detail
The Real-Time Queue summary includes; Available Agents, Calls Waiting, Abandonment Rates, Average Wait Times and Service Level Performance, all available at a glance. Likewise, the 'Length of Time' in a queue is available in real-time.
Agent Management & Detail
Real-Time Agent summary includes Available Agents, Agent Status, and extensions. Notably, agent performance can be measured simultaneously across several sites. In addition, individual agent login, break, call start, finish and wrap-ups are recorded; as well as a count-down clock and alarm for agent breaks available on the agent screen.
Wallboard Display
Operational performance is on public display with the customisable and modulated PCXCom wallboard. Determine the matrix best suited for a particular day or campaign ie; multiple KPI's; queue wait-time, team performance etc.
Virtual Auto Attendant
The Cloud-based, Virtual Auto Attendant efficiently manages inbound phone calls, to either direct calls to the appropriate place, or alternatively handle calls without human intervention ie; payment gateways or recorded messages. Customers phoning a 1300 number are greeted by customised prompts as either a standard IVR with DTMF requests ie; "push 1 to talk to Customer Service etc, or Speech Recognition ie; "to verify your account details, please tell me your account number" – or it can be configured as a combination of both.
The service comes complete with a VPN, 1300 numbers, a management screen to make changes to queues, and the capacity to segment billing to different accounts.
CRM Integration
PCXCom call centre systems and cloud services are compatible and can be integrated with any modern CRM software; including; Salesforce, Netsuite, Microsoft Dynamics, Sugar, ORO, ZOHO and others; via either an API or alternatively by 'single click' access.
PCXCom also has significant expertise in several sectors, such as 'collections', fundraising and market research. As a result, our call centre technology has been integrated with various CRM software such as; Wincollect, Debtcol, Collect!, Mercantile, ThankQ, Donman, iMIS, IBM SPSS and various in-house software developed by our clients.